The Bronze Age c. 2500 - 800 BC
Although it is common to generalise late prehistory – and the Bronze Age in particular – as the period which saw the introduction of metallurgy, other important developments took place, including open settlement and field  system patterns. At the same time, many practices continued from the Late Neolithic which preceded it, making it a complex period with cultural change very gradual over time.

Petters Sports Field, Egham, c850 BC (Late Bronze Age)
The principal roundhouse, with its imposing porch, was identified from postholes, and these also indicated the presence of fencing and other structures, mostly of uncertain form but including the four-posted raised granaries. The site is also notable for the bronze hoard discovered in a ditch which lay just behind the fence shown here. The viewpoint looks approximately west towards the wooded Coopers Hill in the distance. (Drawing by Giles Pattison © Surrey County Archaeological Unit)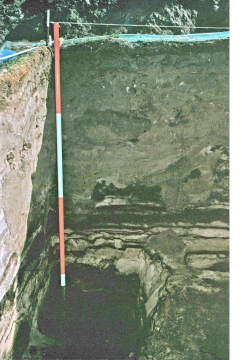 With more scientific techniques being developed every day, new advances are able to be applied towards analysis of Bronze Age material in Surrey. One such technique is palynological (pollen) analysis, where sediment monoliths are extracted from excavated sites such as barrows, which can provide a reconstruction of the landscape of the time, including the woodland species. At Thursley, study of the turf stacks indicated that the local heathland was in early development. A similar study at Frensham (left) showed that hazel and oak woodland dominated in the Middle Bronze Age, with the mounds possibly set within a small glade.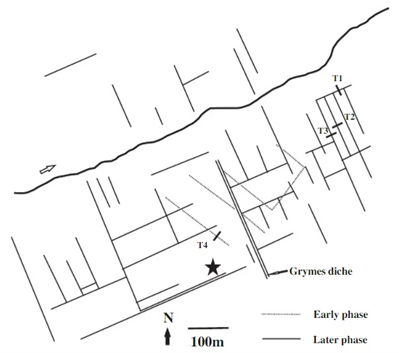 Many Bronze Age monuments have also been known about since antiquarian times, whether barrows – often labelled on early mapping as 'tumuli' – or field systems. However, aerial photography or more recent advances such as LiDAR (Light Detection and Ranging) have allowed for more features to be detected. Some of these field systems – such as Whitmoor Common (right) – have even had small excavations which have been able to confirm their dating.
There are many resources on the Bronze Age in Surrey, including the period-specific pages on Exploring Surrey's Past and relevant sections in the Surrey Archaeological Research Framework. The Historic Environment Record (her@surreycc.gov.uk) is also the leading source of heritage information in the county, and has put together the monuments map for the Bronze Age below (based on current HER data). In addition, chapters in the South East Research Framework provide useful overviews of the region, including Surrey, as well as a wealth of additional sources.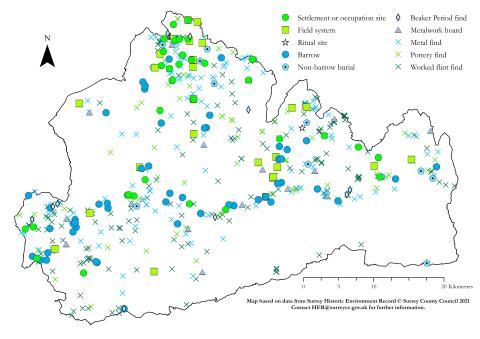 A downloadable A3 size leaflet on Bronze Age Surrey has been put together by the Society in the hopes of providing a helpful overview and timeline of the period, illustrated with select images from excavations, research and fieldwork.
This is available as a printable double-sided pdf 

SyAS Bronze Age flyer print version.pdf
It has also been broken down into a more user-friendly version for reading, including the outer pages and inside map 

SyAS Bronze Age flyer read-only version.pdf

SyAS Bronze Age map inside.pdf

 
For some further learning sources on Palaeolithic Surrey:
Bird, J and D G Bird (1987) The Archaeology of Surrey to 1540
Cotton, J et al (2004) Aspects of Archaeology and History in Surrey
Hunt, R (2002) Hidden Depths: an Archaeological Exploration of Surrey's Past
O'Connell, M (1986) Petters Sports Field, Egham, excavation of a Late Bronze Age/Early Iron Age site, SyAS Res Vol 10
Weller, W (2018) Late Bronze Age/Early Iron Age and Roman discoveries at 64 The Avenue, Egham, Surrey, in Randall, N and W Weller, Bronze Age, Roman and Saxon discoveries in Egham and Esher, Surrey, SpoilHeap Publications Occ Pap, 8, 51-91