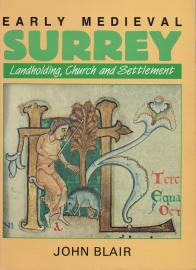 This book was originally published in 1991 and is made available here by kind permission of the author.

This is a study of institutions and the economy in Surrey during the early and central Middle Ages. The many themes discussed here have seen much research in the last twenty years: the manorial structure, agrarian growth, field-systems, parish churches and the parochial system. But the more they are examined, the more the hidden problems emerge and the less adequate the old generali- zations seem. Only very detailed local studies such as this will tell us what was really happening. The author ensures that each institution is set against its historical context and aims to show how systems of lordship, tenure, agriculture, ecclesiastical jurisdiction and pastoral care changed together and affected each other. In so doing he provides much more than a local study, for these are the details that form the essential core of our under- standing of institutions and practices that still affect Britain today.

Copyright Statement
The content of this publication is protected by copyright.
Specific copyright is retained by the author Professor John Blair. A non-exclusive, non-transferable licence is hereby granted to those using or reproducing, in whole or in part, the material for valid not-for-profit teaching and research purposes, providing the copyright owner is acknowledged. Surrey Archaeological Society should be cited as the source of the material from this server. Anyone wishing to reproduce facsimile material for any other purpose should obtain the consent of the copyright holder.