Thumbnail: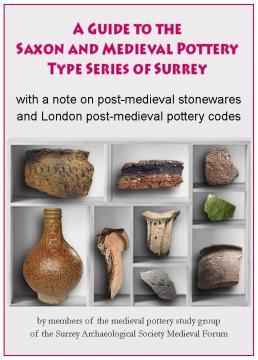 Contents:
Pottery
Medieval
Saxon
Type series
Guide
The Guide to the Saxon and Medieval Pottery Type Series of Surrey is a quick guide based on Phil Jones's Medieval pottery type series. He developed this type series over many years of studying Medieval pottery found in Surrey. The Guide has a clear description of the pottery fabric and the typical forms for each fabric. Images at high magnification show the fabric of the many types of pottery found in Surrey. Other images show typical sherds.
The Guide should be used in conjunction with the physical type series held at the Abinger Research Centre. Please contact the Library for more information.
Size A5 with a laminated cover, 40 pages with 67 photographs and 8 tables and illustrations.
Price: £5.00 (add £1.00 p+p). Available from the Abinger Research Centre.