This is a small collection donated by C.Bateman and said to be from the Dorking area. Unfortunately, GuildfordMuseum has no further information about either Turner or Bateman, and none of the lithics in the collection have a certain provenance. The Lithics Working Group of the Prehistoric Group studied this collection and the information is collated on a spreadsheet available from the Prehistoric Group (contacts below) or in GuildfordMuseum. Most of the lithics examined were blades, flakes and waste, probably Mesolithic in date, though this is not certain in many cases. However there were a few stone artefacts which did not appear to be of local origin including an arrowhead which may be North American. There was also a perforated granite macehead and two notched ground axes.
Consultation with a number of people in Surrey and also from English Heritage as well as a visit to the PittRiversMuseum did not allow a firm conclusion as to the origin of the macehead and axes, but some suggestions can be made.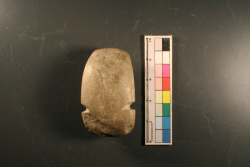 The macehead has been formed from a distinctive red granite which resembles that found at Peterhead, Aberdeenshire. It was suggested that the axes may possibly be from SE Asia, and a search of the ethnographic collections at the PittRiversMuseum found that the closest parallels in form and fabric (though no notched items were found) came from New Guinea (specifically the region of the River Watute). The notches on the axeheads may not be contemporary with their manufacture, and they remain something of a mystery.
If anyone could help us further with the identification of Turner, Bateman  or the stone artefacts we would be pleased to hear from them. (Contacts below)
This work would not have been possible without the assistance of our current members: Jan Blatchford, Roger Ellaby, Judie English, Peter Harp, Stella Hill, Robin Tanner, Chris Taylor, Ken Waters andKeith Winser. Although space is limited we welcome enquiries from anyone who might wish to participate as the opportunity arises.
Rose Hooker & Jen Newell, c/o Castle Arch, or:
rosemary.hooker@blueyonder.co.uk(link sends e-mail)