Date:
Saturday, 1 October, 2022 -

10:00

to

15:30
The Medieval Studies Forum will be hosting a full study day devoted to pottery studies, looking at its historical, technical, social and economic aspects. The interesting programme covers a wide range of topics and will include a tribute to Steve Nelson, a member of the Society and the Forum who contributed a great deal to the study of Medieval Pottery. 
The programme has been finalised and is attached (as well as copied below). The cost of the day is £12. Payment can be made through PayPal or by cheque, which can be sent to the Society at the address indicated.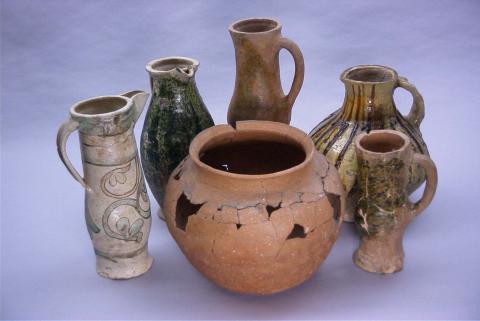 9.30 Registration
10.00 Chair
10.10 Pottery and People in Medieval Society: Duncan Brown (Historic England)
11.10 Coffee/Tea
11.30 Surrey White Wares and how to tell them apart: Jacqui Pearce (MOLA)
12.15 Research on Surrey whitewares: a short outline of the work being undertaken: Lyn Spencer (SyAS), for her Master's Dissertation (UCL)
12.30 Two kilns at North Park Quarry, Bletchingley: greyware production in the Limpsfield tradition: Lorraine Mepham (Wessex Archaeology)
13.00 Lunch (During the lunch time there will be an opportunity for pottery identification)
13.40 Clays in Surrey: what, why, where?: Dr Mark Eller (Geologist MVGS)
14.30 Understanding the Early Medieval Pottery Assemblage from Lyminge: Dr Lisa Backhouse, Medieval Pottery Specialist
15.10 The work of Steve Nelson (in honour of): Nikki Cowlard (SyAS)
15.20 Closing Remarks
Postal Address:
East Horsley Village Hall
Kingston Ave