Date:
Saturday, 8 May, 2021 -

09:30

to

17:15
Following the great success of the 2018 conference on the transition from Roman to Saxon in the South-East, the Roman Studies Group is arranging another such event, this time focusing on the end of the Iron Age and the start of Roman Britain in our area.
This event was originally due to be held in May 2020 but was cancelled due to the Corona virus pandemic.
In recent years the Group has carried out or assisted on fieldwork at sites such as Abinger, Ashtead, Chiddingfold, Ewell and Flexford, all of which have added important information to our understanding of the period in the years before and after the time when our part of England became formally a part of the Roman Empire. We aim to set these discoveries in their wider setting in the South-East. 
It promises to be as enjoyable and stimulating a meeting as the one in 2018 and we look forward to attracting a similarly enthusiastic audience. We have made the decision to hold this conference on Zoom , and although this will affect the socialising and networking that such a conference would normally generate we are confident that the content will make it an interesting and worthwhile event.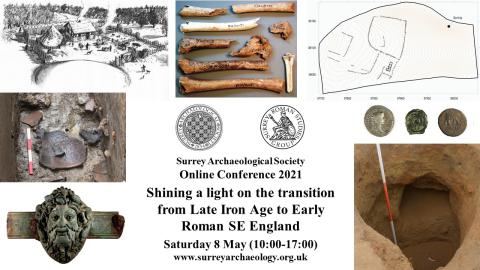 Click on the Book tab above to book your place - one £5 booking covers one household.  Bookings can only be made online here. Please do not share the code - it is for your personal use.
When you complete checkout you will receive an email containing the Zoom code to get into the meeting.  You do NOT need to register with Zoom prior to the meeting. 
If you do not receive an email from us immediately after Paypal payment please check your Junk or spam mailbox and then email us (info@surreyarchaeology.org.uk)and we will resend the email.
Shining a Light from Late Iron Age to Early Roman SE England 
Saturday 8th May 2021
9.30 Registration (Participants are urged to log on well before 10.00)
10.00 Welcome (David Bird, Roman Studies Group, Surrey Archaeological Society)
10.05 Chair, Paul Booth, Research Associate, University of Oxford, Introductory remarks
10.15 Thomas Matthews Boehmer, Doctoral Student University of Cambridge, Between method and theory: the challenges of studying identity in Late Iron Age and early Roman Britain
10.50 Discussion
11.00 Refreshments
11.15 Tom Brindle, Post-Excavation Manager, Cotswold Archaeology, First (Century) Impressions: appearance, coin-use and communication in south-east Britain beyond the Roman Conquest
11.50 Discussion
12.00 Anna Doherty (with input from Louise Rayner), Senior Ceramicist, Archaeology South-East, UCL, Location, location, location: exploring variability in LIA-Roman pottery assemblages through case studies from SE England
12.35 Discussion
12.45 Lunch (a programme of slides will run as a display across the break)
13.30 Tony King, Professor Emeritus, University of Winchester, Celtic to Romano-Celtic? The archaeology of religious sites in SE Britain, 1st century BC to 2nd century AD.
14.05 Discussion
14.15 Martyn Allen, Senior Project Manager, Oxford Archaeology, 'Two shakes of a lamb's tail': a zooarchaeological perspective of the Iron Age/Romano-British transition in south-east England
14.50 Discussion
15.00 Refreshments
15.15 David Rudling, Honorary Research Fellow University of Roehampton, 'Becoming Roman?' The Late Iron Age to Early Roman transition in Sussex
15.50 Discussion
16.00 Mike Fulford, Professor of Archaeology University of Reading, Silchester: from Iron Age oppidum to Roman City
16.35 Discussion
16.45 Chair Summing up and final discussion
17.00 Thanks and close
Postal Address:
Abinger Research Centre
Hackhurst Lane