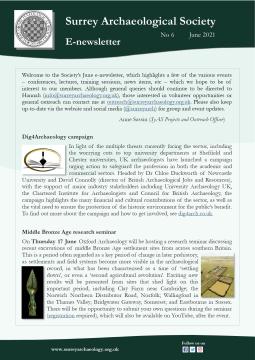 Have you signed up to our new monthly e-newsletter? You do not have to be a member to sign up to the mailing list.
In addition to the Bulletin, we are now communicating with our members and partners via a monthly e-newsletter, which is emailed out to all on the mailing list. This is a useful way to engage in more regular communication, highlighting some of the events such as conferences and lectures, training sessions, fieldwork opportunities and occasional news items which may be of interest.
Please email info@surreyarchaeology.org.uk to be placed on it.
All back numbers of the e-newsletter are available here.