Date:
Saturday, May 4, 2019 - 11:00

to

Sunday, May 19, 2019 - 16:00
There will be three weekends for the community to get involved in the test pitting programme at Leatherhead, centred this year around Rowhurst and Teazle Wood, to take place over the first three weekends of May. All test pitting will be in the grounds of either Rowhurst or adjacent Teazle Wood, with Rowhurst serving as a meeting point.
On Monday 6th May, we will be holding an open day event, where the community can simply show up with no prior booking. Activities will be available for children especially, including Saxon re-enactors.
Digging on each Saturday and Sunday (4th, 5th, 11th, 12th, 18th and 19th) will require advanced booking, as members of the public will have a more in-depth opportunity to dig, sieve and process finds. To book and for queries, please contact outreach@surreyarchaeology.org.uk.
For more information about the Old Woking test pitting programme, see :

Test pitting flyer Leatherhead.pdf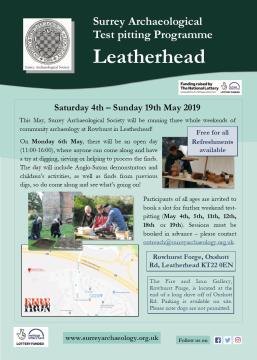 Test pitting A5 flyer Leatherhead.pdf
Postal Address:
Rowhurst Forge
Oxshott Road