Finding Farnham Community Archaeology Project 2014-15
'Finding Farnham' is a Heritage Lottery Funded test-pitting community dig established in 2014 in Farnham, Surrey (NGR SU 8447). Led by the Museum of Farnham and local archaeologists Anne Sassin and David Graham of the Surrey Archaeological Society, the project finished its first two seasons with 35 one metre squared test pits dug throughout the town centre in the month of July, incorporating over 500 participants in total. Sites where the test pits were located included Farnham Park, Farnham Library, the Museum of Farnham, the Windsor Almshouses and Castle Street, the Old Vicarage, High Park Road, Long Garden Walk, Bishop's Meadow, the Memorial Hall, and the West Street Allotments – an overall wide distribution throughout the town centre, which yielded prehistoric flint to pre-Georgian floor levels.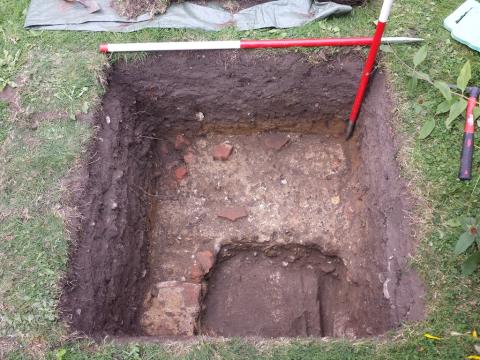 The project was organized as a community archaeology project for the Farnham area in the hopes of bringing awareness and appreciation of archaeology to members of the public, and further exploring the nature and degree of Farnham's history and heritage. This was achieved through a series of test pit excavations around select areas of the town, as well as a broad outreach programme of workshops, exhibitions and open days. 
Excavation was broken down into two core groups of community members: adults and families on weekend days, and select school groups in the week. By encompassing such a range of interests and people, not only were members of the community introduced to their heritage in ways otherwise unavailable to them, but the hope was that they would be inspired towards continued involvement in research of the area.
For the 2014 interim report and dig diary, see attached.