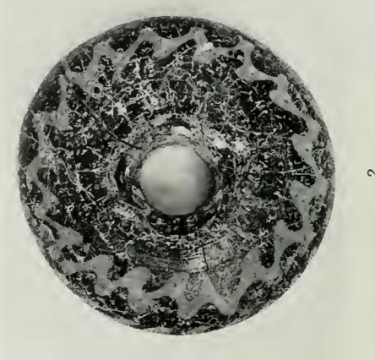 We are holding a major conference at the Peace Memorial Hall in Ashtead about Roman and Saxon 5th Century Surrey on 5th May 2018. 
CLICK HERE and then click on the Book tab to book online.
The image (right) is of a large bead found in an Anglo-Saxon cemetery at Guildown, Guildford in the 1920s, described by Lowther in S.A.C Vol. 39 page 11 : 
"Plate VIII, No. 3 (Grave No. 123). This, on the other hand, is probably purely an ornament and an extra large type of bead, the hole being rather too small for the insertion of a spindle. It is of the " lobed " type which appears to be derived from the Roman " melon " bead, for which reason this form is usually given an early date. Six of the beads from this site are of the lobed type. This bead is of pale green glass, with an inlaid red spot on each of the six lobes. Found placed centrally on the chest of the skeleton."