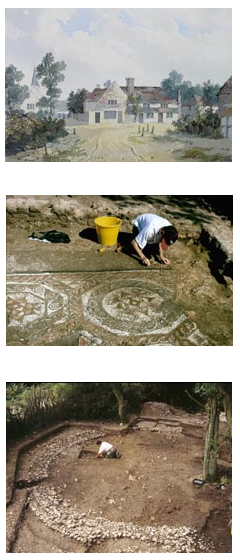 Interested in Surrey's past? Then join the Surrey Archaeological Society and help with historic landscape surveys and excavations, attend lectures and conferences, learn about post-excavation work, join our Special Interest Groups (see link on left) and have access to the best archaeological lending library in the South East. You will also receive our regular bi-monthly Bulletin (a newsletter), an issue of the Surrey Archaeological Collections (which contains excavation and fieldwork reports) and Surrey History (which contains articles on local history)

The Society was founded in 1854 for 'the investigation of subjects connected with the history and antiquities of the County of Surrey'. 150 years later, the Society's objectives remain substantially the same, but the techniques used have changed considerably. Training digs are organised to help beginners and the Society owns geophysical and other equipment for use by the field survey teams. The Society's headquarters are at Castle Arch, Guildford, where the Society's Library, which includes a large and diverse collection of research material, is also housed. Find out about archaeological activities and events in Surrey by browsing through our website using the links on the left. You are sure to find something of interest - whether you are an amateur or professional archaeologist or interested in your local archaeology and history. There is a membership form, which you can print out and post to our headquarters, or better still come and visit the Library and meet our friendly and helpful staff (for times see About Us | Contacts).
The Surrey Archaeological Society Library and Office will be closed from Christmas Eve and will re-open on Saturday 3rd January 2015 (in the morning).
We would like to wish everyone a very Merry Christmas and Happy New Year. With best wishes from everyone at Castle Arch
Click here to see all our forthcoming events
You can now follow us on Facebook and Twitter