The Society's Bulletin is issued to members 6 times per annum and contains a mixture of news, short archaeological and historical reports and articles and forthcoming events.  The back numbers of the Bulletin form an important archive of archaeological and historical news and information for Surrey. They will be gradually published below, together with a listing of the major articles in each edition.  Please click on the publication image to load a full copy of the Bulletin as a PDF file.
 
Indexes
A cumulative Index to the Bulletins is attached as a PDF below
Bulletin Publication Dates 2013/4 (Issue dates are approximate)

Bulletin 443  Copy required by 3rd January 2014 to be issued 3rd February 2014
Bulletin 444  Copy required by 28th February 2014 to be issued 31st March 2014
Bulletin 445  Copy required by 2nd May 2014 to be issued 2nd June 2014
Bulletin 446  Copy required by 4th July 2014 to be issued 4th August 2014
Bulletin 447  Copy required by 19th September 2014 to be issued 20th October 2014
Bulletin 448  Copy required by 14th November 2014 to be issued 15th December 2014

Please send copy to Emma Coburn, Administrator, to Castle Arch, Guildford, GU1 3SX or info@surreyarchaeology.org.uk
Bulletin 439 - June 2013
Bulletin 438 - April 2013
Archaeological archives in peril
WW1 Military Practice trenches in Aldershot area
Obituary - Dennis Turner
Annual Research Symposium 2013
Colour Mills Map c1690
Leper Hospital at Guildford
Ashtead Roman Villa and Tileworks
Lepers and Friars
The Pre-History of Cottage Hospitals
Worms Heath Puddingstone Querns
Ashtead Roman villa and tileworks
Flexford Excavations: Autumn 2012
LiDAR: A more detailed visualisation of Woking Palace
The National Planning Policy Framework and Archaeology<
WW1 Prisoner of War Camp at Holmbury
The Western Bell Barrow on Horsell Common
The Medieval Leper Hospital of St Thomas in Guildford
Bishop Waynflete's Brick Tower of Farnham Castle
Cocks Farm, Abinger: Excavation in 2012
Church Meadow, Ewell: Excavations in 2012

Bulletin 434 - August 2012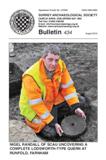 Runfold Farm Quarry
Thursley revisited
The Building Archaeology Research Database



Bulletin 433 - June 2012
The potential of LiDAR surveys in river valleys
Excavations at Flexford in April 2012
Alexander Raby at Downside Hill, Cobham and Coxes Lock, Addlestone
The Abinger Mesolithic Pit Dwelling

 
Betchworth Castle
23 Castle Street, Farnham: a medieval burgage plot
Ashtead Roman Villa and tileworks
The Stone Priory seal
A Late Iron Age and early Roman site at Charlwood
Flexford October 2011
Two Late Bronze Age axes from Wonersh
A Bronze Age gold pennanular ring from Reigat


Bulletin 430 - December 2011
The Molesey Bronze Age shield re-discovered
Excavations at Cocks Farm 2011
Bulletin 429 - October 2011
Woking Palace excavations
The Hogsmill project
Digging Sayers Croft





Bulletin 428 - August 2011
A possible double ditched enclosure at Addlestone
SHAHT receives conservation award
Flexford 2011
Surrey's Earliest Recorded Subdivided Field?
A 17th century Trading Token from Streatham
Prehistoric settlement at Virginia Water
Buildings of Public Interest Project
Excavations in Thorpe
Re-use of Neolithic Stone Axes
Bookham Courte: An initial evaluation trench
Ashtead Roman Villa and Tileworks
A Roman Site at Slipshatch Road, Reigate
St Peter's Church, Hambledon
Woking Palace Excavations
Meeting Place of the Brixton Hundred
SOB - Save our Barrows
Bulletin 423 - October 2010
Farnham Castle Keep

Recent Excavations at Flexford
Reigate Heath Archaeological Survey
The Ewell Hinterland Project 2009



Bulletin 422 - August 2010
 
Hatch Furlong 2009: The Final Season
Whitebeech, Chiddingfold
Excavations at Cocks Farm




Bulletin 421 - June 2010
Old Woking: Test Pitting and Other Work
Making Bricks in Clamps
Six Bells Roman Buildings, Farnham
Planning Policy Statement 5

Bulletin 420 - April 2010
Hascombe Hillfort: An analytical and magnetometric survey
Archaeological Investigations at Betchworth





Bulletin 419 - February 2010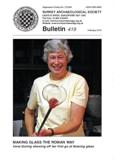 Woodham Common, Woking
Prehistoric, Roman and Saxon pottery from Newark Priory
Turner Collection
Ashtead Roman Villa and Tileworks
The Godalming Navigation: A reassessment of material in the public domain
Browning's Down and Guildford Golf Club

 
Initial archaeological results along the A3 Hindhead road improvements
Surrey under threat: Saxon look-outs along Stane Street
Woking Palace: Excavations in 2009
The Cotton Collection
King Charles' harness decoration
Fieldwork at Holmbury Hillfort
Darwin and Cock's Farm, Abinger
The Brian Hope-Taylor Archive
An excavation at St Anns' Heath School, Virginia Water
A funerary landscape on Merrow Downs?
Guildford Park: A topographical-cum-toponymical approach
Archaeology at Hatch Furlong - 3rd interim report 2008
General Pitt Rivers and Guildford
Guildford and Stoke - two parks or one
Report of Archaeological Research Sympisium 2009
Roman and Bronze Age activity at Christ's College School Guildford
St Peters Church Hambledon
Surrey's Medieval Towns
Fieldwork in Abinger
Magnetic Survey of Roman buildings at Chiddingfold
Cobham Park
Ashtead Villa and tileworks
Surrey Research Framework Conference October 2008 report
Gold ring from Cobham
Downside Mill Training Excavation
Eight new Roman sites on the flank of the North Downs
Surrey - Birthplace of baseball
Hambledon Limekilns
Freoricburna - an addendum
Frederick Prince of Wales in Epsom
Bronze age ingots at Betchworth
Newark Priory, Ripley : Survey
Digitisation of the Collections
Simon Thurley Lecture
Sweet Chestnuts at Telegraph Hill
A pig pot from Epsom
Fullingadic
Hatch Furlong Ewell 2008
Fullingadic - more!
New magnetometry equipment
2008 Symposium Report
Changes to heritage legislation
Grant by Frithuwold to Chertsey 672
Fullingadic
Accessions to Library
Artefact Photography
Abbey Gardens Chertsey
Bulletin 407 - April 2008 

Bee Garden Chobham
Fullingadic
Briar Road Big Dig 2005/6
Obituary - Fred Hastings
Surrey's Medieval Waterways
Ashtead Roman Villa and Ironworks
Was Surrey Celtic?
AGM 2007
Storm alert at Newark Priory
Community Excavation in Southwark
Hatch Furlong 2007
Recent Civil War finds from Farnham Castle
Recent Roman Studies Group visits
Discovering High Ashurst
Saxons, Surrey and settlement
Springs and Therapeutic waters
People Places Landscape : Rebuilding Stonehenge in Surrey
The Nighthawking Survey
Excavation at Wayneflete Tower
Archaeological Work at Priory Park Reigate
Benjamin Davis, James Furner and their chapel and school
Surviving the Stone Age - could you?
Minutes of 2004 AGM
Surrey Archaeological Research Framework
Chaldon Court - an early medieval house
Battersea Power Station - building at risk
Ecclesiastical exemption - the way forward
English Heritage Strategy 2005-2010
Golf in the Landscape
It is hoped in the near future to publish further Bulletins retrospectively on this site.

Index is below
Locations