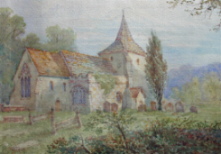 The Society has a valuable library which is not only a good collection of books on archaeology and local history but is the only specialist lending library on these subjects in the county. Books, pamphlets and periodicals that can normally only be consulted in reference libraries can be borrowed by members. There is also a large archive of research material - paintings (left: watercolour of Mickleham church), prints, maps, photographs, press cuttings, card indexes, etc - which is available for study.
Important notice :  Library has moved to Abinger - re-opening in January 2017
The Surrey Archaeological Society Library has now moved to our premises at Abinger .  It is planned to re-open the Library at Abinger in January 2017 following several months of re-arrangement..
The Society archives have been moved into temporary storage at the Surrey History Centre.  From mid October 2016 these can be consulted by contacting the Assistant Librarian.
All members who can be contacted by email have received this news already; full details will be published in Bulletin 458 to be published in mid-October 2016.