The Library has undert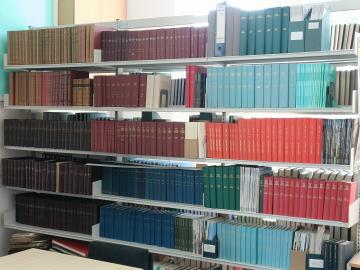 aken a second rationalisation of our journal stock. 
Regional journals that are now freely available online have been withdrawn from stock.  These journals are now in need of a new home.  If anyone is interested in taking a run of journals for their own use please contact Hannah Jeffery on  librarian@surreyarchaeology.org.uk   
All our journals, both regional and national are now available on open access in the meeting room at Abinger.
The list of withdrawn journals is below 
Title

Volumes

Dates

Agricultural History Review

I - 67

1953 - 2019

The Berkshire Archaeological Journal

45 - 80

1941 - 2011

Birmingham and Warwickshire Archaeological Society

Transactions

86 - 119

1974 - 2017

Records of Buckinghamshire

I -59

1854 - 2019

Proceedings of the Cambridge Antiquarian Society

103 - 107

2014 -2018

Cornish Archaeology

51 - 53

2012 - 2014

Transactions of the Cumberland & Westmorland Antiquarian &

Archaeological Society. Third Series

9 - 21

2009 -2021

Derbyshire Archaeological Journal

136 - 140

2016 - 2020

Transactions of the Essex Archaeological Society

II part 1

1859

Transactions of the Essex Archaeological Society

3 and 5

1865 and 1873

Transactions of the Essex Archaeological Society. New Series

 (2nd series)

I - XXV

1878 - 1955

Transactions of the Essex Archaeological Society. Third Series

1 - 40

1961 - 2009

Essex Archaeology and History. Fourth Series

1 - 7

2010 - 2016

Papers and Proceedings of the Hampshire Field Club and

Archaeological Society

1-50

1885-1995

Hampshire Studies

51-74

1996-2019

Transactions of the Woolhope Naturalists' Field Club,

 Herefordshire

58 - 59

2010 - 2011

Journal of the Royal Society of Antiquaries of Ireland

144 - 148

2014 - 2018

Kent Archaeological Review

11 - 174

1968 - 2008

Archaeologia Cantiana

II -CXXXVIII

1859 - 2017

Archaeologia Cantiana: Testamenta Cantiana

 

1907

London Archaeologist

1 - 15

1968 – 2020

London's Industrial Archaeology

8 -15

2004 - 2017

Transactions of the London and Middlesex Archaeological

Society

I-VI

1860-1890

Transactions of the London and Middlesex Archaeological

Society New Series

I-68

1903-2017

Archaeologia Aeliana. Fifth Series

45 - 48

2016 - 2019

Norfolk Archaeology

I - 44

1847 - 2005

Northamptonshire Archaeology

9 - 40

1974 - 2019

Oxoniensia

80-82

2015-2017

Transactions of the Shropshire Archaeological and Natural

History Society First Series

I - X

1878-1887

Transactions of the Shropshire Archaeological and Natural

History Society Second Series

II-XII

1890-1900

Transactions of the Shropshire Archaeological and Natural

History Society Third Series

I-IV

1901-1904

Transactions of the Shropshire Archaeological and Natural

History Society

LXXXIX

2014

Proceedings of the Somersetshire Archaeological

Society

LXI - 111

1915 - 1967

Somerset Archaeology and Natural History

112-163

1968-2020

Southern History

1 - 38

1979 - 2016

Proceedings of the Suffolk Institute of Archaeology and History

43.1 – 44.2

2016 -2018

Sussex Archaeological Collections

I - 156

1847 - 2018

Wiltshire Studies: The Wiltshire Archaeological and

Natural History Magazine

16 - 106

1876 - 2013